Normal price
selling price
€65,99
€129,99
basic price
pro
Sale
Sold out
● Sofort versandfertig,
Lieferzeit ca. 2 - 3 Werktage
✔️ Schnelle Versand & Umtausch
🇩🇪 Verifziertes Unternehmen
📦 Kostenloser Versand für alle Bestellungen über 50 €
AUF AMAZON KAUFEN
💥 SHISHA COMPLETE SET - Set of hookah accessories. Now even cooler! We IMPROVED the hookah and replaced the orange Chinese bowl with a high-quality black clay bowl!
💨 COOL VERTICAL EXHAUST SYSTEM - Only pure taste of hookah tobacco with closed chamber system. The massive shisha stainless steel cools the smoke in the smoke column more than aluminum.
💪 RELIABLE & DURABLE - Thanks to the solid and rust-free V2A materials, the small Shisha SSS is extremely robust and durable. Use your hookah shisha set for years!
😋 EASY TO ASSEMBLE - Quick and easy to set up. Put water in the bowl, put the shisha smoke column in the base, connect the hose to the shisha mouthpiece. No hookah hose adapter needed!
💎 MODERN DESIGN - Timeless & stylish with matching shisha accessories for water pipe Travel Shisha, so you only get the best for your cozy hookah evenings.
Show full details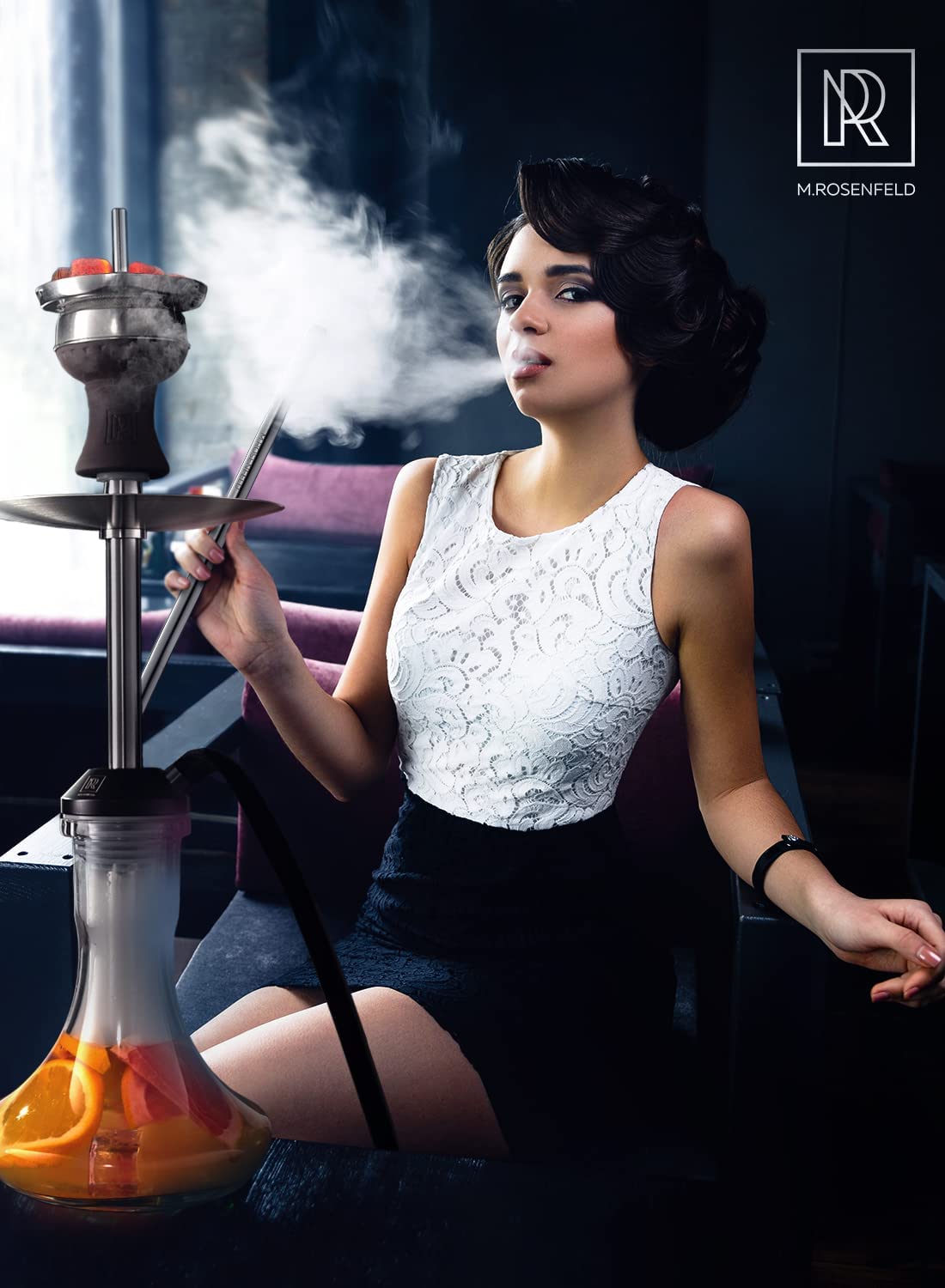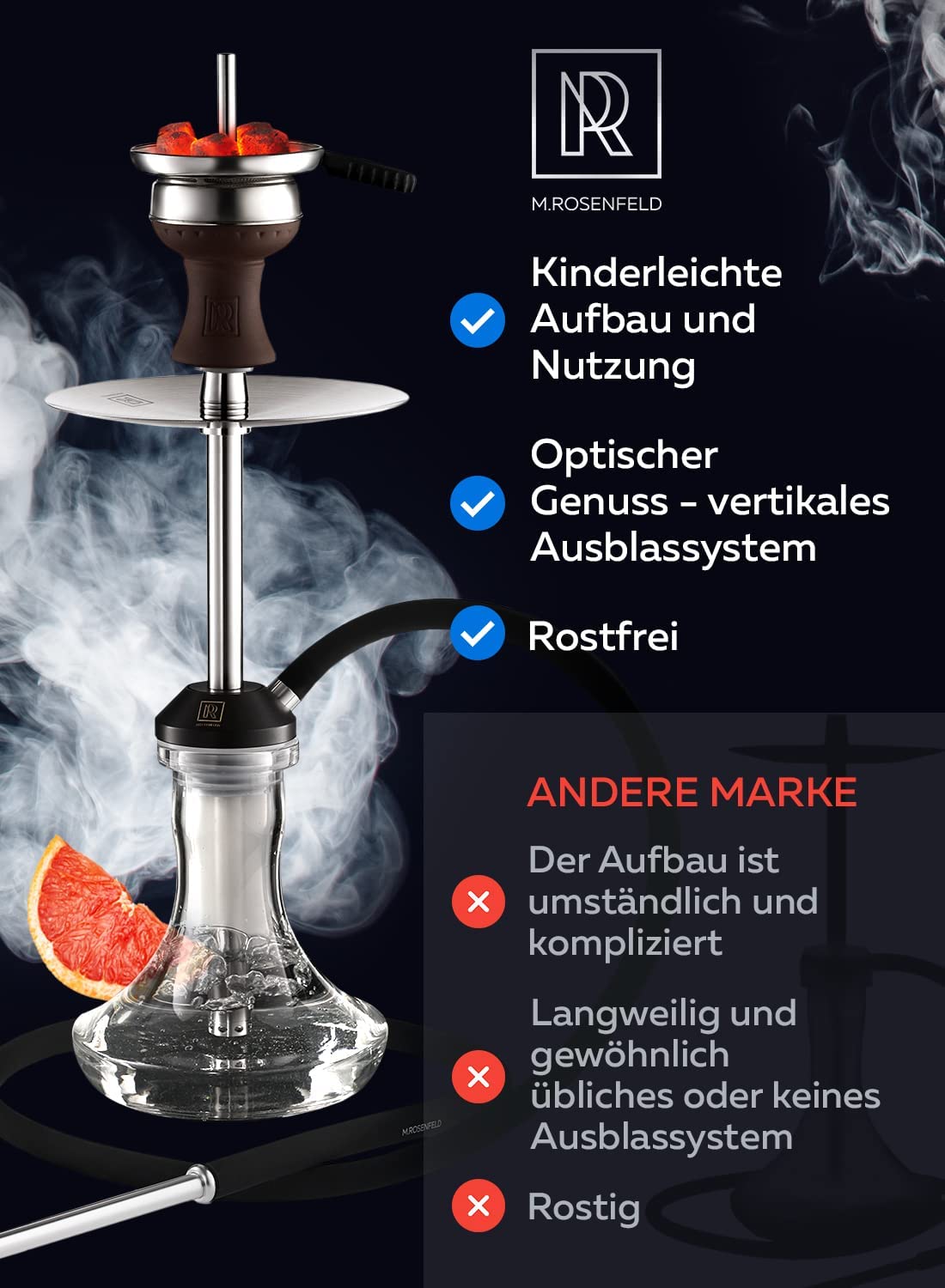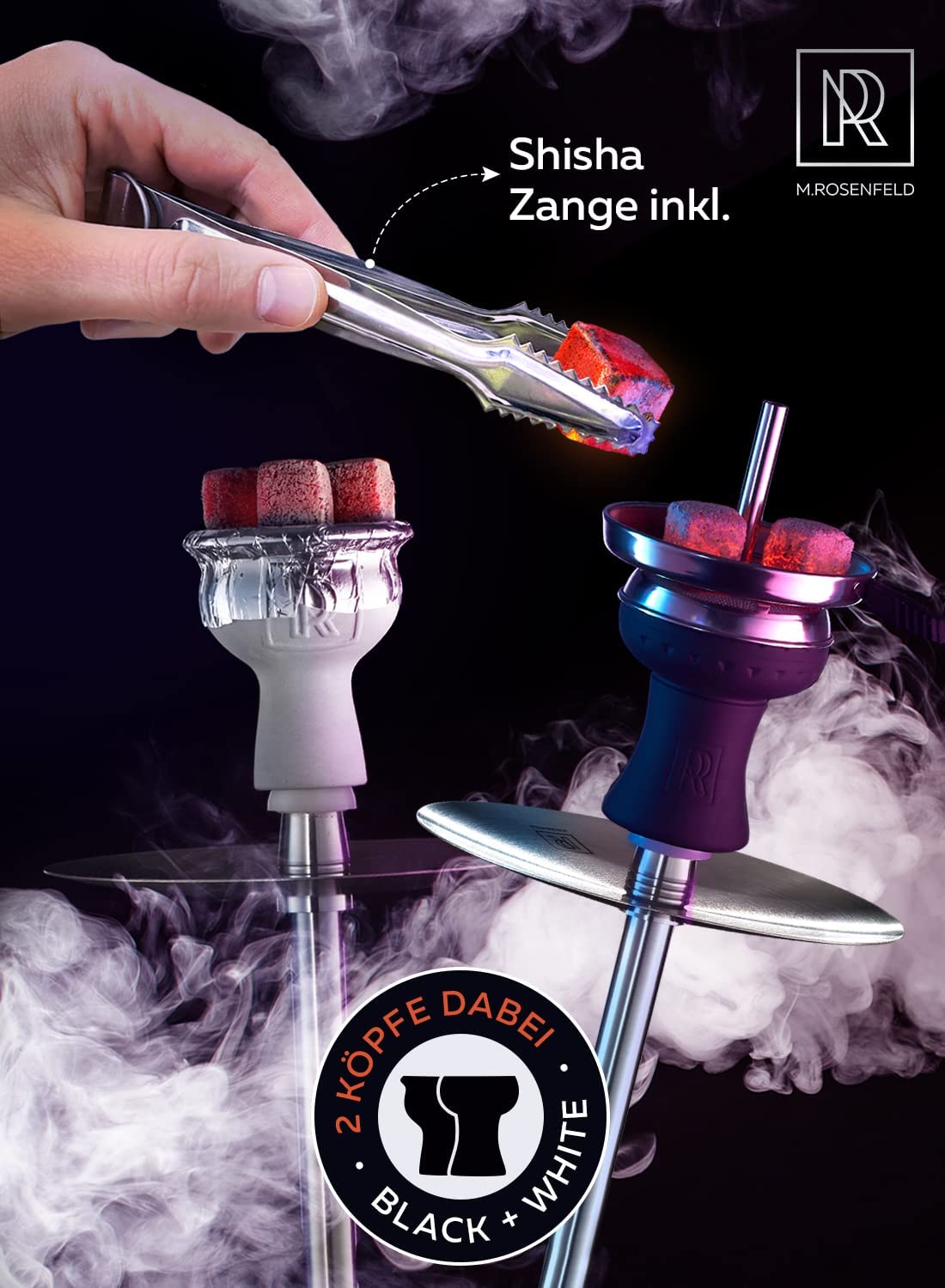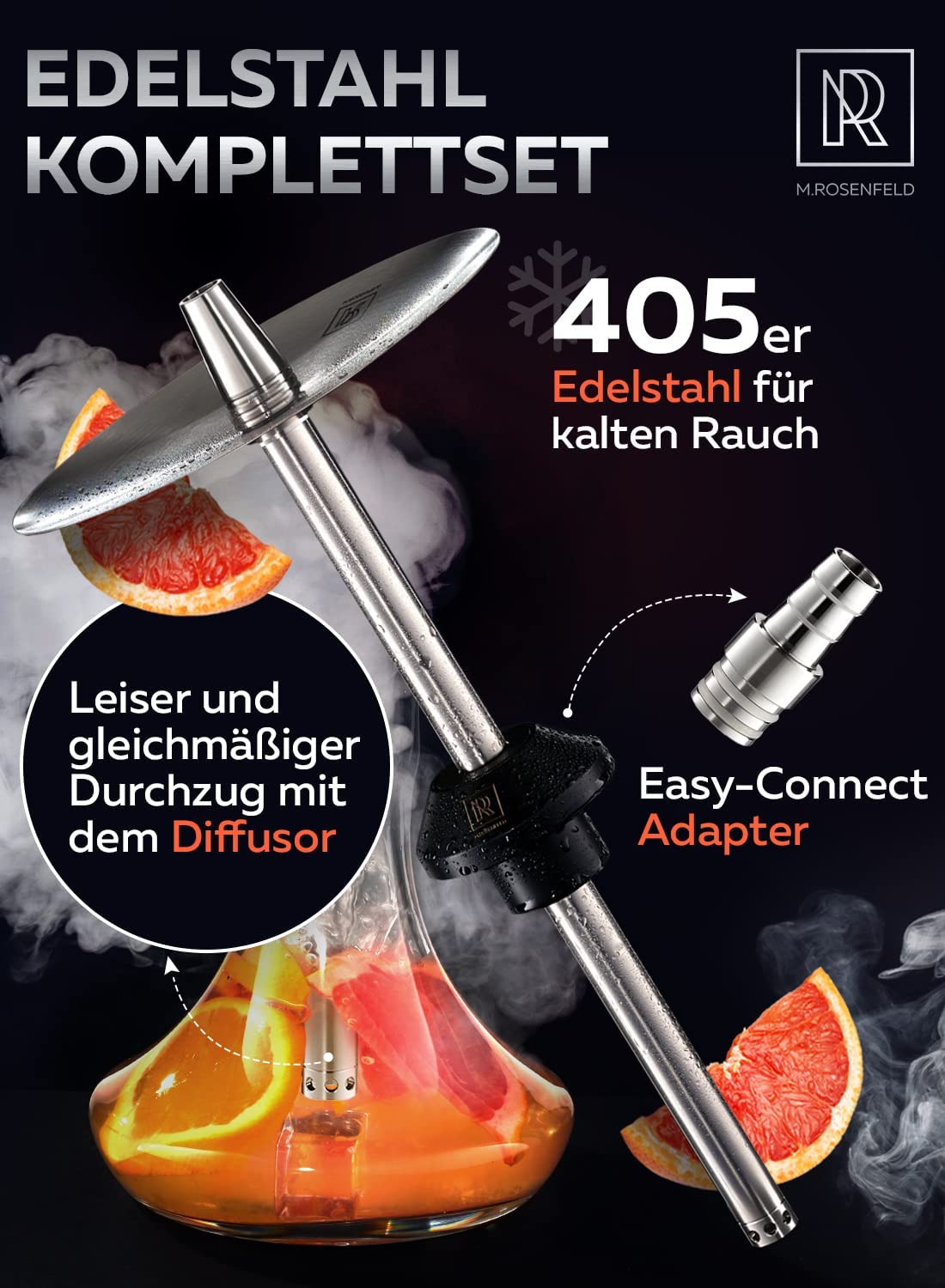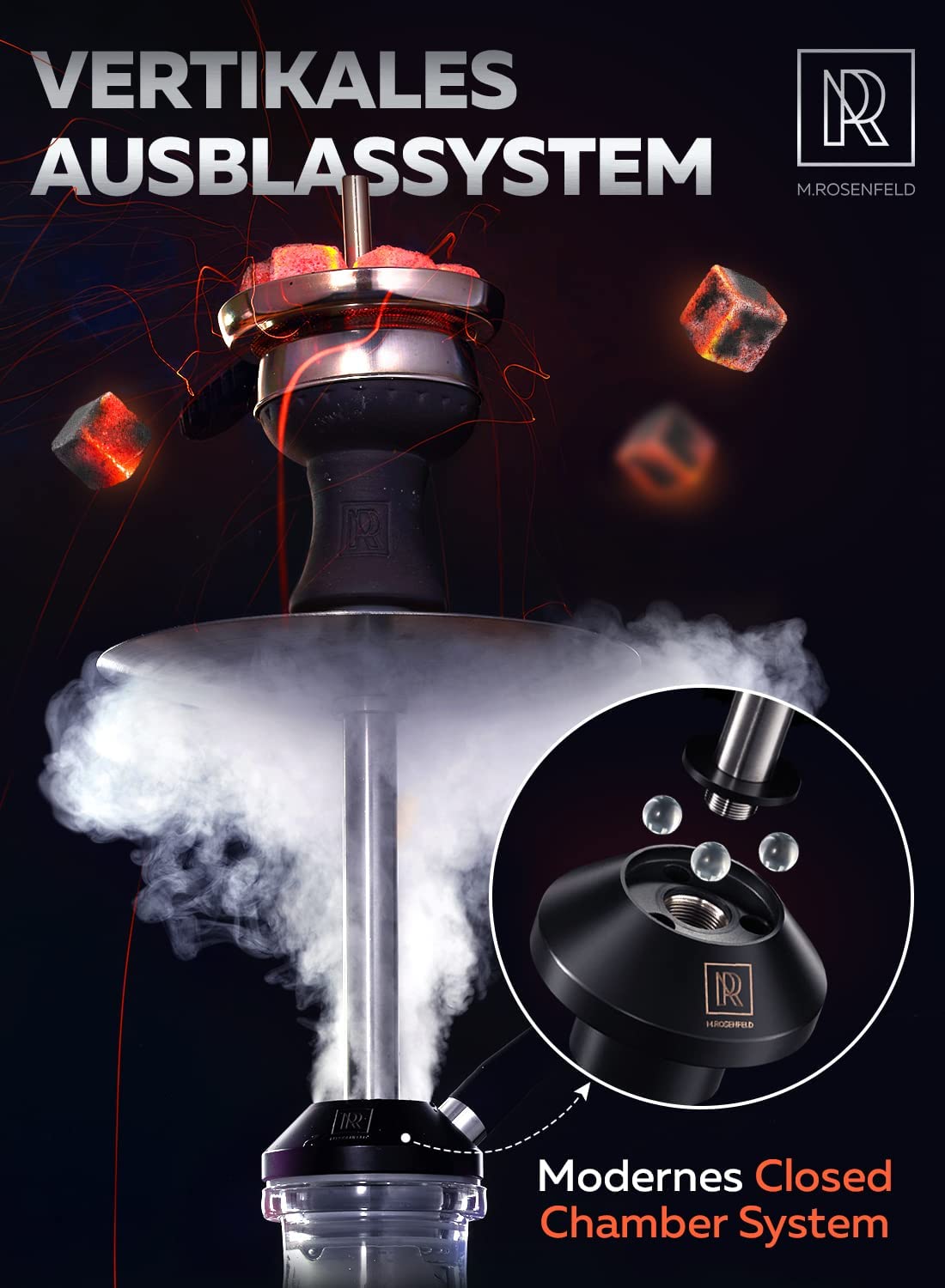 Premium Shisha SSS
A very good 'medium' sized Shisha set made of high quality material. Easy to setup, use and maintain.
Gute Qualität
Das Produkt ist gut. Nur wir war nicht bewusst das es sich um eine Steck Shisha handelt (Gummi Dichtung). Finde den click Verschluss oder zum Schrauben persönlich besser, aber die Qualität der Pfeife ist top.
Best Hookah for price!!!
The hookah was the best I ever purchased, the purge come in handy. Really nice hookah overall, although the I'm putting five stars i was in between of putting four starts because there were no clear instructions. I had to go everywhere just to find out that you have to put the three pearls into the three holes of the hookah.
Ottima qualità ma zero istruzioni per montaggio e uso
Die Medien konnten nicht geladen werden.  Consiglio di guardare la mia video recensione per un'idea completa sul prodotto, ma quello che più mi ha colpito è l'assenza delle istruzioni per il montaggio del prodotto composto, in stile ikea, da una scatola di oggetti da assemblare tra loro. Credetemi, un assemblaggio non proprio istintivo complice l'assenza delle foto nella scheda del prodotto che a sua volta non aiuta minimamente a capire come deve venire.Per questo tolgo un punto dalla mia valutazione.Però bisogna anche dire che il vetro dell'ampolla è molto spesso e quindi qualitativo, non enorme, ma qualitativo. Meno qualitativa la guarnizione con cui si innesta il palo verticale, che al primo utilizzo stava già finendo dentro l'ampolla. Molto qualitativi i materiali metallici, ricordano molto i materiali delle sigarette elettroniche di buona qualità.Scadente (e puzzolente) invece il tubo di gomma che si poteva prevedere di un livello leggermente migliore. Anche la parte finale del tubo flessibile, quella bacchetta metallica che funge da bocchino, bella ma a mio avviso troppo lunga e quindi scomoda da maneggiare senza tirarsi via tutto il dispositivo.Molto bene invece la parte superiore in cui si mettono gli aromi e il bracere, veramente comodo e di qualità. Tra l'altro in confezione c'è tutto quello che serve per partire, anche le pinzette per afferrare il carbone e la griglia per appoggiarcelo sopra, bisogna comprare a parte solamente aromi e carbone.
grande qualité!
cette chicha peut paraitre chère comparée aux prix pratiqués dans certaines boutiques mais la qualité se paye! le verre de ce narguilé bien épais et sans aspérité gage de la bonne facture de l'instrument. Tout dans cet appareil respire la bonne qualité et je ne vois aucune fuite ni défaut à l'usage. cette chicha est prévue pour une seule personne car il n'y a qu'un seul tuyau d'aspiration mais rien n'empêche la convivialité bon enfant!
Secure payment

Shipping faster

30 days right of withdrawal

24 hour support
If you decide to make a selection, the page will be completely updated.
Will open in a new window.