Normal price
selling price
€15,99
€25,99
basic price
pro
Sale
Sold out
● Sofort versandfertig,
Lieferzeit ca. 2 - 3 Werktage
✔️ Schnelle Versand & Umtausch
🇩🇪 Verifziertes Unternehmen
📦 Kostenloser Versand für alle Bestellungen über 50 €
AUF AMAZON KAUFEN
Hookah molasses catcher with thread - Apollo | Universal made of aluminum with adapter, fits universally for all shishas, ​​pre-cooler attachment | Simply plug onto the head adapter.

 

Characteristics:

✅ 𝗦𝗔𝗨𝗕𝗘𝗥𝗘 𝗪𝗔𝗦𝗦𝗘𝗥𝗣𝗙𝗘𝗜𝗙𝗘: catches dripping molasses from the tobacco directly under the head. The water in the bowl stays clean and no more molasses settles in the smoke column.
✅ 𝗨𝗡𝗞𝗔𝗣𝗨𝗧𝗧𝗕𝗔𝗥 & 𝗟𝗘𝗜𝗖𝗛𝗧 𝗪𝗔𝗦𝗖𝗛𝗕𝗔𝗥: in contrast to molasses catcher made of glass, breaks the APOLLO not so easy. Also perfect for on the go! How to Clean: Unscrew, wash and reattach.
✅𝗣𝗔𝗦𝗦𝗧 𝗙Ü𝗥 𝗝𝗘𝗗𝗘 𝗦𝗛𝗜𝗦𝗛𝗔: is easily placed under the head & therefore does not depend on an 18 cut. Plug directly onto the smoke column with the supplied silicone seal & you're done
✅ 𝗞𝗘𝗜𝗡 𝗦𝗖𝗛𝗠𝗨𝗧𝗭𝗪𝗔𝗦𝗦𝗘𝗥 𝗜𝗠 𝗕𝗟𝗜𝗖𝗞: since this mola catcher is metal & opaque, you won't look at any collected molasses in the catcher & your shisha looks nice and clean. The eye smokes too.
✅ 𝗛𝗢𝗖𝗛𝗪𝗘𝗥𝗧𝗜𝗚𝗘 𝗩𝗘𝗥𝗔𝗥𝗕𝗘𝗜𝗧𝗨𝗡𝗚: our molasse catchers are milled with CNC machines from solid aluminum blocks. This is how we ensure high stability and durability with a light weight without breakage.

 

Details: Easy to use and sturdy construction. Rustproof and shatterproof. The perfect combination of both worlds. A great choice for beginners and experts alike.



Show full details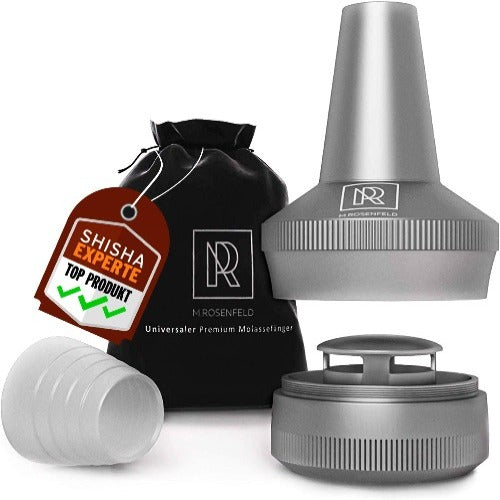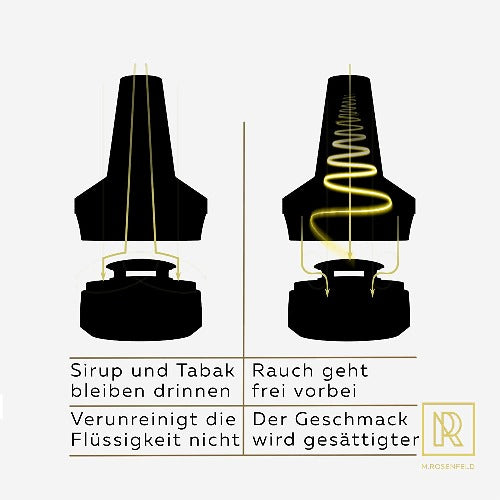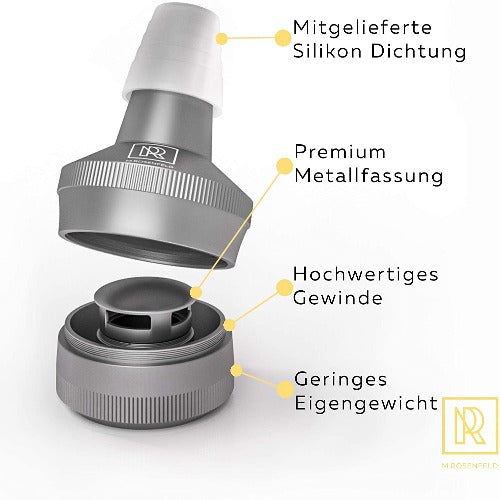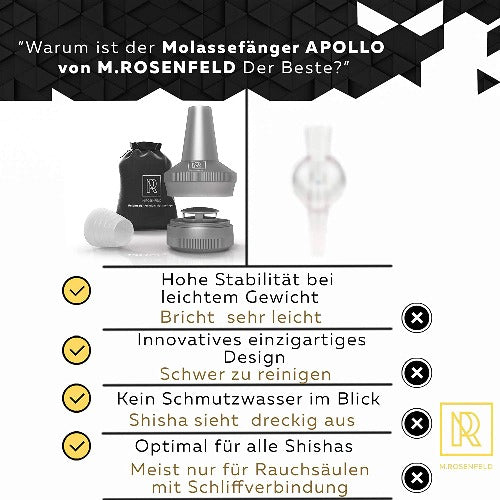 top quality
i migliori prodotti super azienda
Great product!
Amazing quality. Looks good too
Recommended
Fast and hassle free transaction, highly recommended
Secure payment

Shipping faster

30 days right of withdrawal

24 hour support
If you decide to make a selection, the page will be completely updated.
Will open in a new window.