Normal price
selling price
€15,99
€26,99
basic price
pro
Sale
Sold out
● Sofort versandfertig,
Lieferzeit ca. 2 - 3 Werktage
✔️ Schnelle Versand & Umtausch
🇩🇪 Verifziertes Unternehmen
📦 Kostenloser Versand für alle Bestellungen über 50 €
AUF AMAZON KAUFEN
Premium hookah hose in carbon look + Glass mouthpiece | Crystal Stick I

 

Characteristics:

𝗞𝗢𝗠𝗣𝗟𝗘𝗧𝗧 𝗦𝗛𝗜𝗦𝗛𝗔 𝗦𝗖𝗛𝗟𝗔𝗨𝗖𝗛 𝗦𝗘𝗧: stable 40cm glass mouthpiece (borosilicate glass) + noble 150cm soft touch silicone hose shisha + anti-kink spring + 14.4 cut end piece + noble gift packaging
𝗛𝗢𝗖𝗛𝗪𝗘𝗥𝗧𝗜𝗚𝗘𝗦 𝗗𝗘𝗦𝗜𝗚𝗡: yes it is. Noble shisha accessory, absolute eye-catcher and upgrades every high-quality water pipe optimally! The most beautiful hookah hose with hookah mouthpiece hookah hose set.
𝗞𝗢𝗠𝗙𝗢𝗥𝗧𝗔𝗕𝗘𝗟: thanks to the special ergonomic handle, the Shisha mouthpiece is particularly comfortable and safe to hold. Doesn't slip, water pipe, doesn't fall, just there when you need it!
𝗦𝗧𝗔𝗥𝗞𝗘𝗥 𝗗𝗨𝗥𝗖𝗛𝗭𝗨𝗚: with a diameter of 11 mm, an excellent draft for optimal smoke development and draft strength. Hookah mouthpieces tested with over 100 fans!
𝗡𝗢 𝗦𝗟𝗜𝗣 𝗦𝗧𝗜𝗖𝗞 𝗘𝗙𝗙𝗘𝗞𝗧: the glass mouthpieces have a corrugated hose connection and do not get stuck in the shisha silicone hose. Changing silicone hoses is easy!




Details: Are you looking for chic and high-quality shisha mouthpieces for shisha? A long mouthpiece with a good pull? A complete set with Shisha silicone hose and hose adapter? Then this is just the thing for you. Best hookah accessory set: With the shisha hose mouthpiece and hose sets from M. Rosenfeld, you can get everything from one source: a complete shisha hose set made of mouth-blown glass mouthpiece + matte carbon shisha hose + kink protection + hookah hose adapter + extremely high-quality workmanship, practical for everyday life and thoughtful down to the last details (such as: the ribbed hose connection with shisha glass hose, transparent shisha, shisha hose glass) + 14/4 cut, no hookah hose sealing required.
Show full details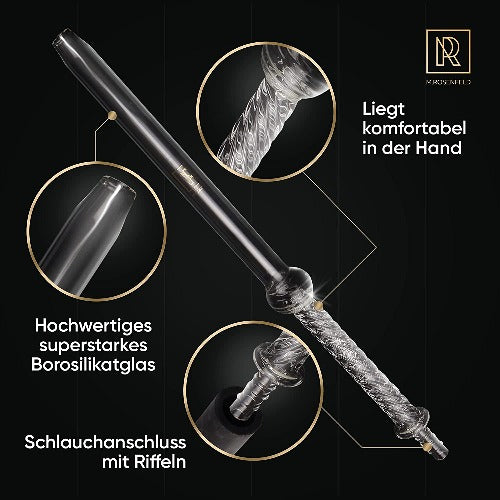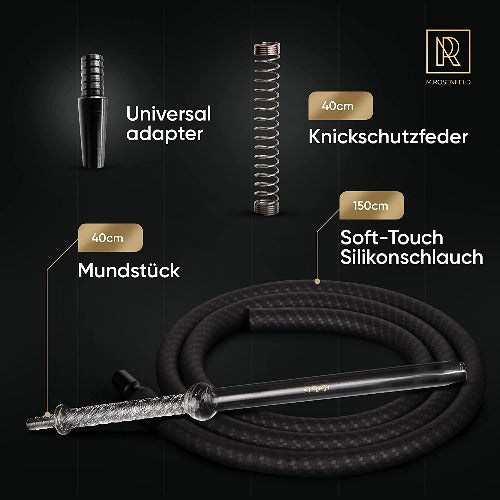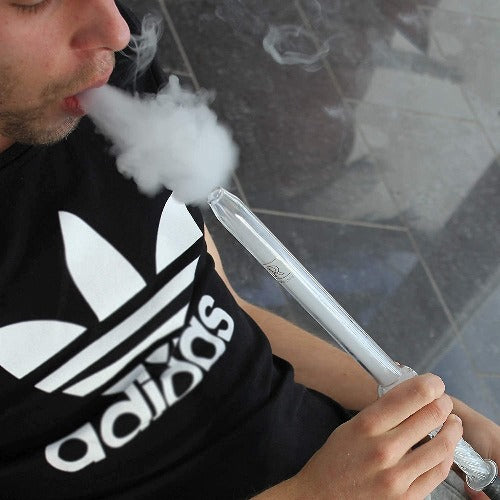 Top
1a Qualität. Werde wieder bei euch bestellen!!
Ich habe noch keine Ware bekommen
2x Mundstück + Schlauch
super Qualität.
schnelle Lieferung.
Tolle Website!
habe den schlauch und daa Mündstück noch nicht lange aber bis jetzt ist sehr super und bin sehr zufrieden
Pfeife sachen
Smoke box Glas Kopf und Glas schlauch zuuuuuu krass Empfehle ich weiter
Secure payment

Shipping faster

30 days right of withdrawal

24 hour support
If you decide to make a selection, the page will be completely updated.
Will open in a new window.