Normal price
selling price
€7,99
€16,99
basic price
pro
Sale
Sold out
● Sofort versandfertig,
Lieferzeit ca. 2 - 3 Werktage
✔️ Schnelle Versand & Umtausch
🇩🇪 Verifziertes Unternehmen
📦 Kostenloser Versand für alle Bestellungen über 50 €
AUF AMAZON KAUFEN
Shisha Chimney Piece ZERO For Heads - Innovative aluminum foil replacement for up to 4 shisha charcoal cubes, universal charcoal sieve shisha smoke box charcoal attachment for tobacco head, even heat, 0% ash in tobaccoFeatures:


 

✅ 𝟬% 𝗔𝗦𝗖𝗛𝗘 𝗜𝗠 𝗧𝗔𝗕𝗔𝗞: Innovation! This bowl attachment heats the tobacco in the bowl without air holes just by the heat of the metal. This prevents ash from falling into your tobacco. Pure taste without aluminum foil.
✅ 𝗞𝗜𝗡𝗗𝗘𝗥𝗟𝗘𝗜𝗖𝗛𝗧𝗘 𝗛𝗔𝗡𝗗𝗛𝗔𝗕𝗨𝗡𝗚: suitable for beginners & professionals. Simply place it on the clay pot, add charcoal, wait a moment & you're done! With the slot for tongs easy to transport for carbon change.
✅ 𝗞𝗘𝗜𝗡 𝗔𝗡𝗥𝗔𝗨𝗖𝗛𝗘𝗡 + 𝗞𝗘𝗜𝗡 𝗩𝗘𝗥𝗕𝗥𝗘𝗡𝗡𝗘𝗡: Smoke box with 3-4 coals alone ensures the perfect condition of the tobacco without smoking. No excess heat going into the tobacco --> Tobacco does not burn
✅ 𝗛𝗢𝗖𝗛𝗪𝗘𝗥𝗧𝗜𝗚𝗘 𝗩𝗘𝗥𝗔𝗥𝗕𝗘𝗜𝗧𝗨𝗡𝗚: the ZERO fireplace is milled from an aluminum block in a complex process. This technique ensures long-term quality compared to cheap cast products.
✅ 𝗨𝗡𝗜𝗩𝗘𝗥𝗦𝗔𝗟: Suitable for heads with an outer diameter between 5-7 cm. Fits Amy clay head, KS Appo stone head, Phunnel, silicone head, glass head, etc. Easy heat management, for any natural charcoal

 

Details: Novelty. First universal head attachment for your clay head that does not let ashes on the tobacco. It has no holes and only gives the heat of the coals through the hot metal to your tobacco. Try it out and you will be amazed at what is possible:) New level in pure shisha enjoyment.

Simply put on it, coals on it and start smoking. Suitable for both multi-hole heads and Phunnel, Vortex etc. Suitable for clay head, silicone head and glass head. Extremely easy to use and super durable.

No rust, no moving parts, solid and thoughtful down to the detail. Perfect for coal-holding headset. No rubber seal or extras required.

Elegant hotbox screen and charcoal holder. Ideal holder for Sisha coconut coal, bamboo charcoal, charcoal, self-igniter coal, etc.

 
Show full details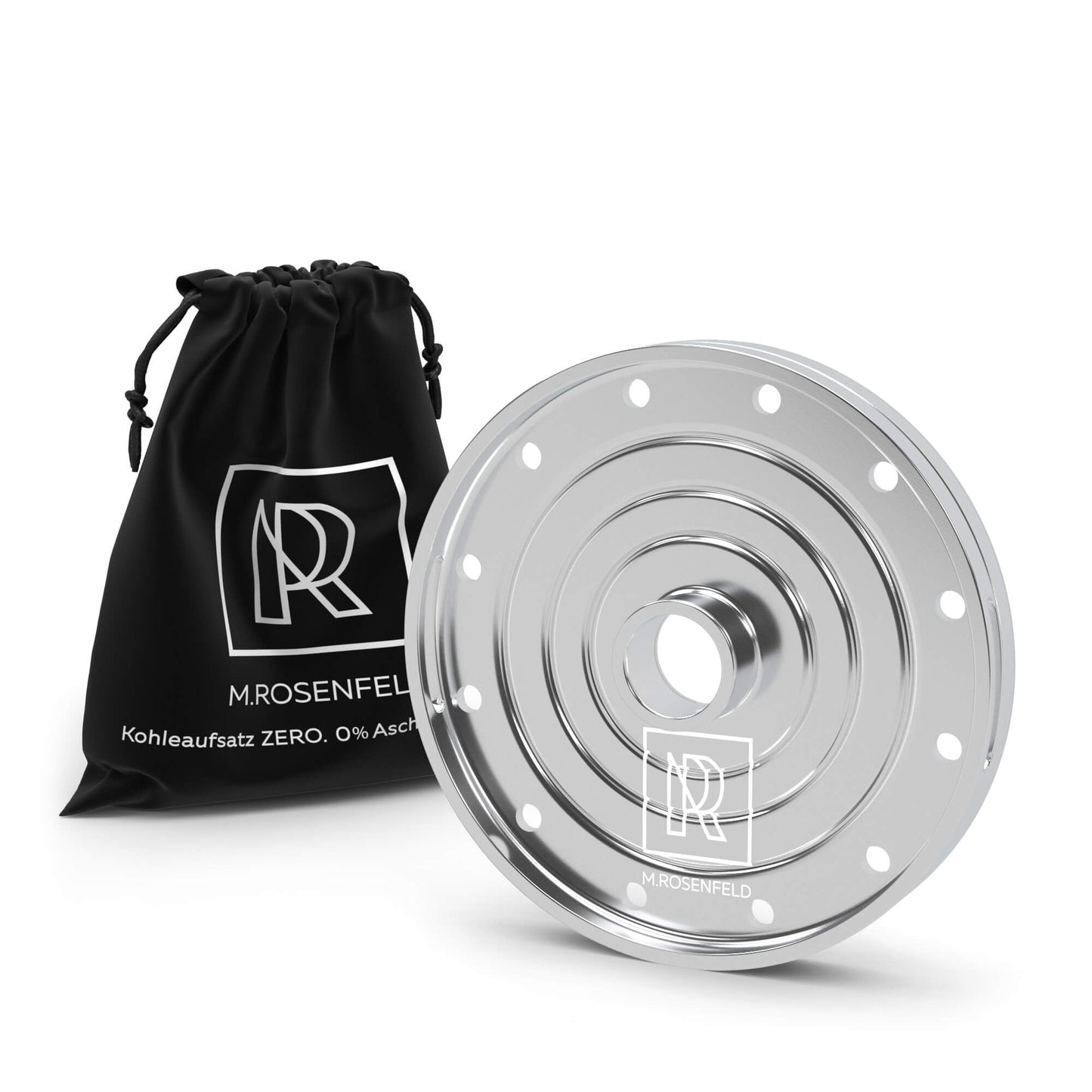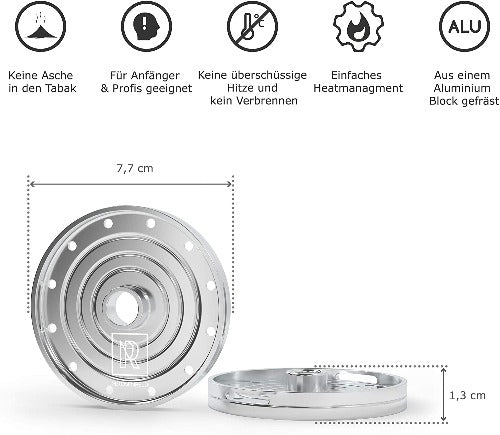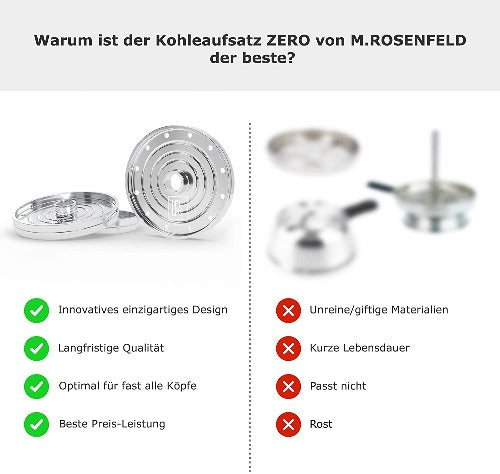 Secure payment

Shipping faster

30 days right of withdrawal

24 hour support
If you decide to make a selection, the page will be completely updated.
Will open in a new window.