Normal price
selling price
€114,99
€139,99
basic price
pro
Sale
Sold out
● Sofort versandfertig,
Lieferzeit ca. 2 - 3 Werktage
✔️ Schnelle Versand & Umtausch
🇩🇪 Verifziertes Unternehmen
📦 Kostenloser Versand für alle Bestellungen über 50 €
AUF AMAZON KAUFEN
Premium Black Shisha PROTOS - Hookah with 1 connection incl. adapter, closed chamber with click thread + stainless steel immersion tube & diffuser, tone head with chimney  

Characteristics: 

👍𝗞𝗢𝗠𝗣𝗟𝗘𝗧𝗧𝗦𝗘𝗧: Start directly - no time-consuming searching. Aluminum mouthpiece, sound head with chimney, silicone hose, etc. Everything you need for your session. Only coal and tobacco have to be procured.
💰𝗣𝗥𝗘𝗠𝗜𝗨𝗠 𝗭𝗨𝗠 𝗙𝗔𝗜𝗥𝗘𝗡 𝗣𝗥𝗘𝗜𝗦: Whether it's the unique design, the closed chamber system, 18/8 cut, the click closure or the immersion tube/ D stainless steel diffuser. Bullet point
😲𝗔𝗕𝗦𝗢𝗟𝗨𝗧𝗘𝗥 𝗛𝗜𝗡𝗚𝗨𝗖𝗞𝗘𝗥: stable black crystal glass bowl, diamond molasses catcher and the XXL smoke column in silver ensure a noble appearance of your water pipe.
🤩𝗣𝗘𝗥𝗙𝗘𝗞𝗧𝗘𝗦 𝗥𝗔𝗨𝗖𝗛𝗘𝗥𝗟𝗘𝗕𝗡𝗜𝗦: Perfect for you and your friends thanks to the 4 connections. Enjoy extreme draft, dense smoke and great taste.
💎𝗘𝗥𝗦𝗧𝗞𝗟𝗔𝗦𝗦𝗜𝗚𝗘 𝗩𝗘𝗥𝗔𝗥𝗕𝗘𝗜𝗧𝗨𝗡𝗚: uncompromising workmanship for long-term use. No rattling, nothing is leaking. Trust in brand quality here.
Show full details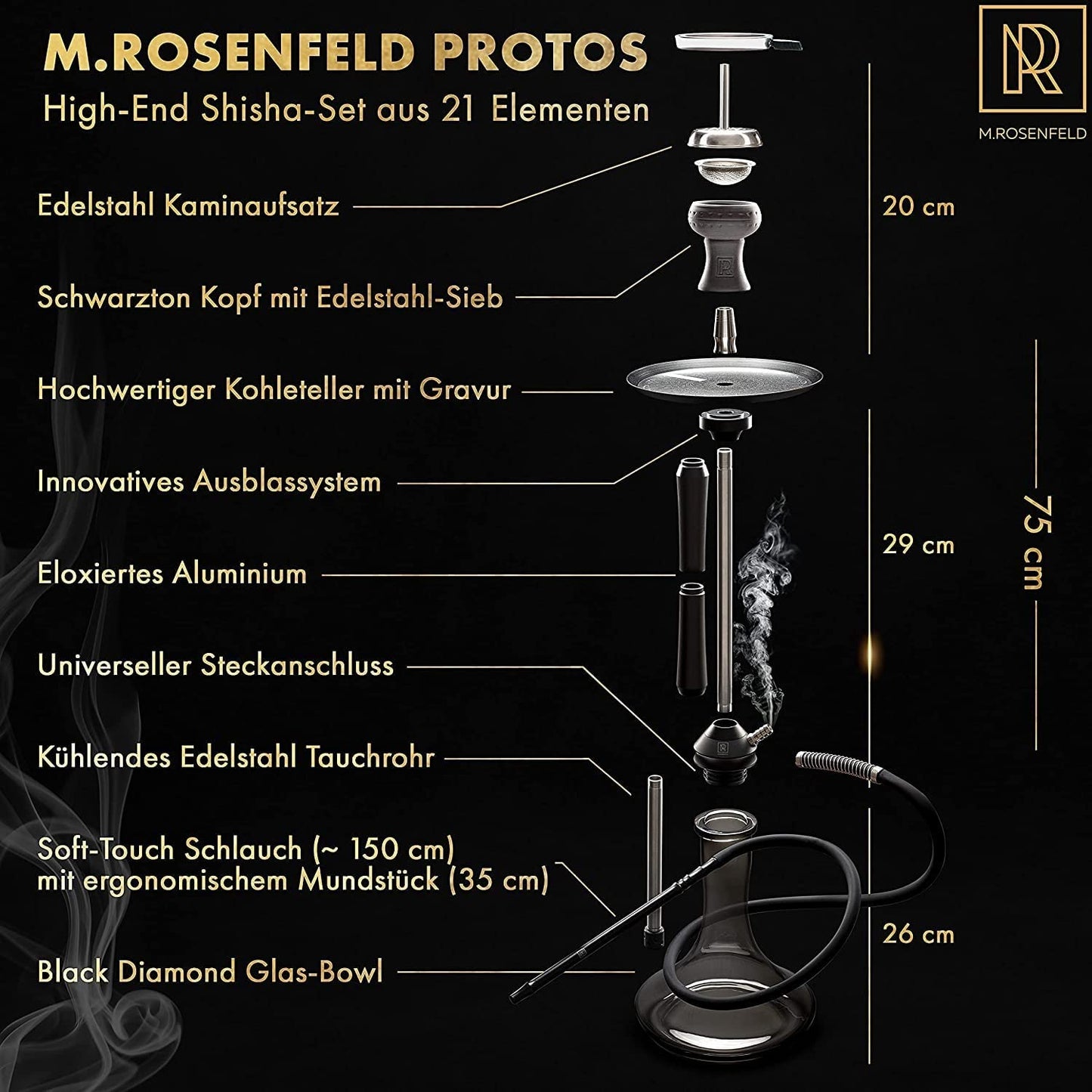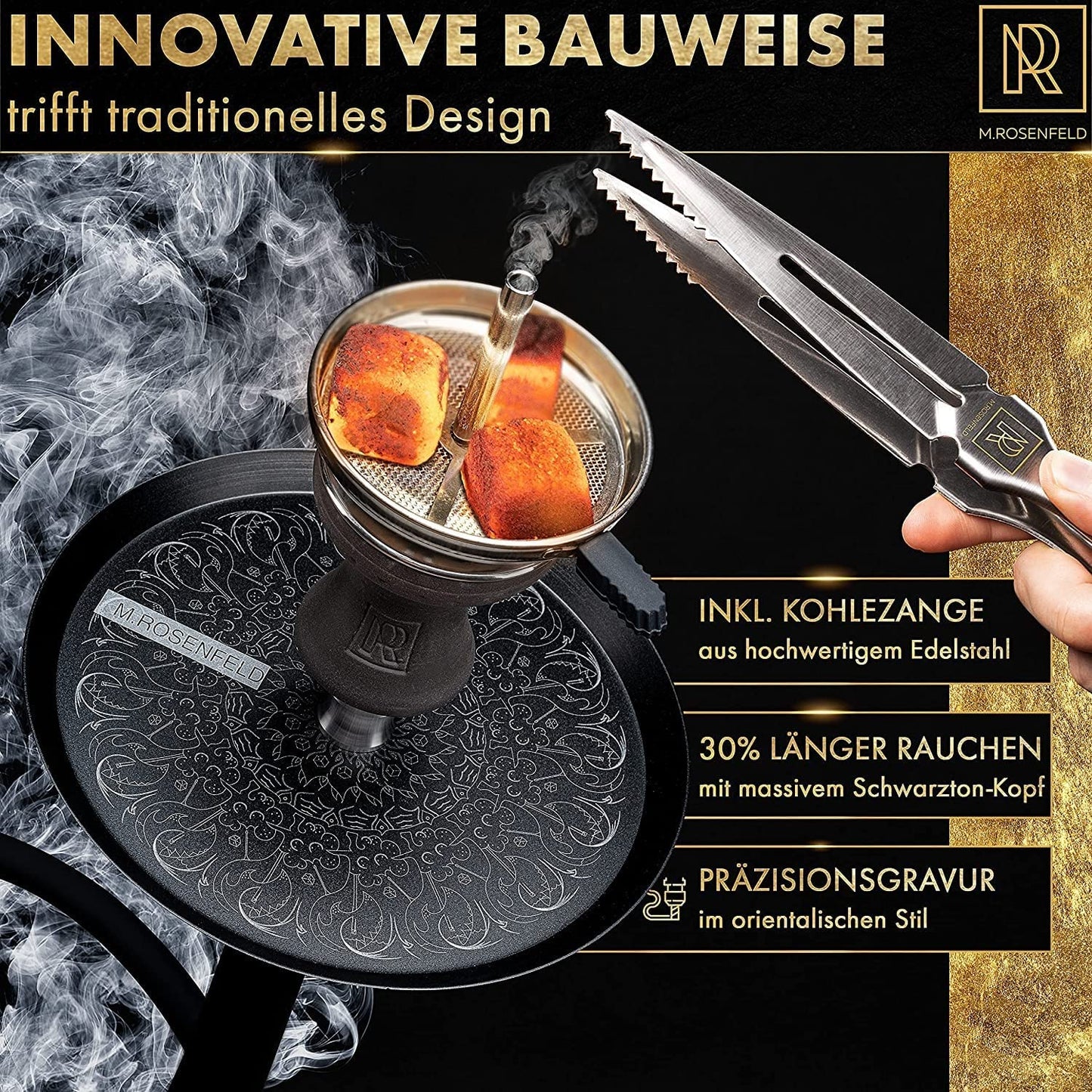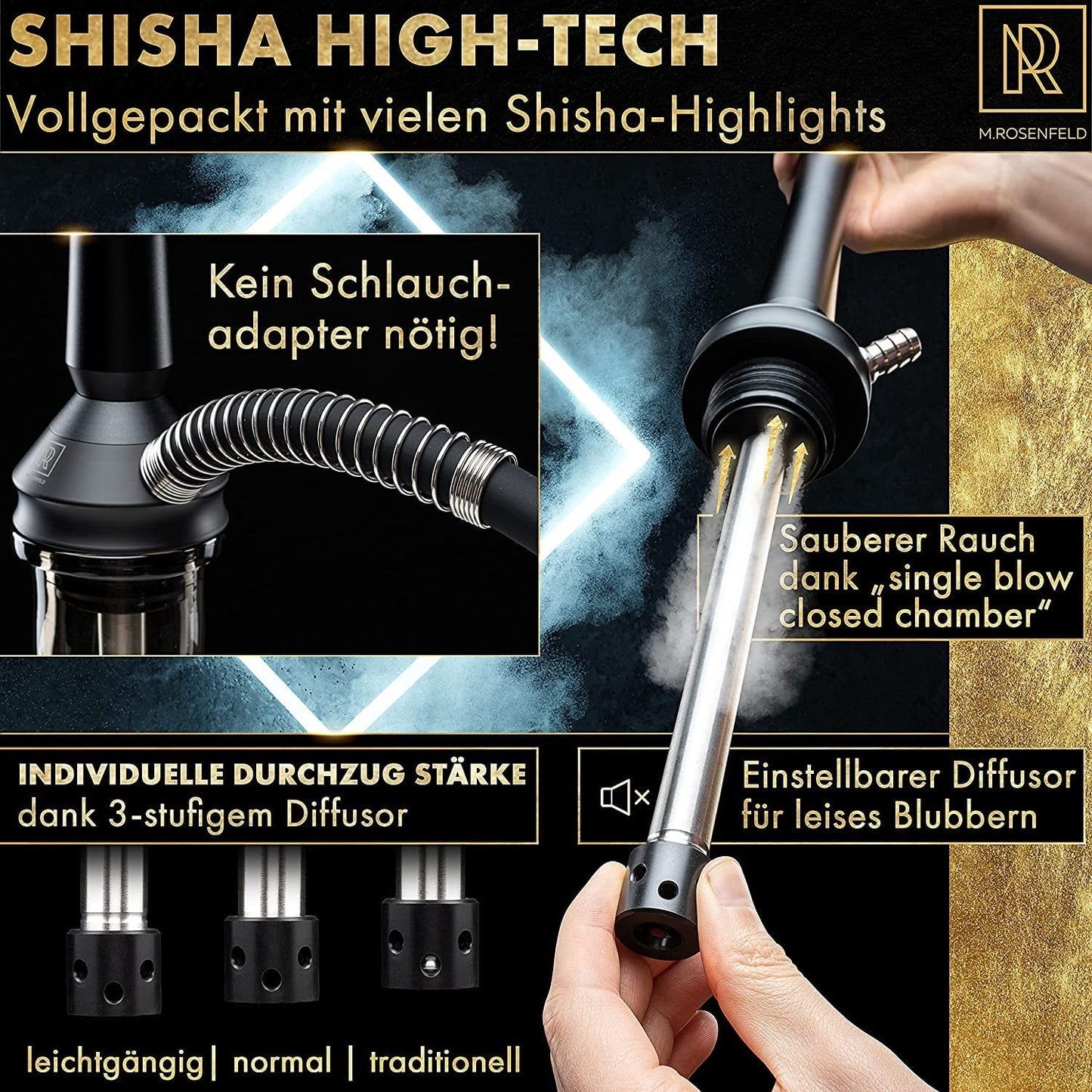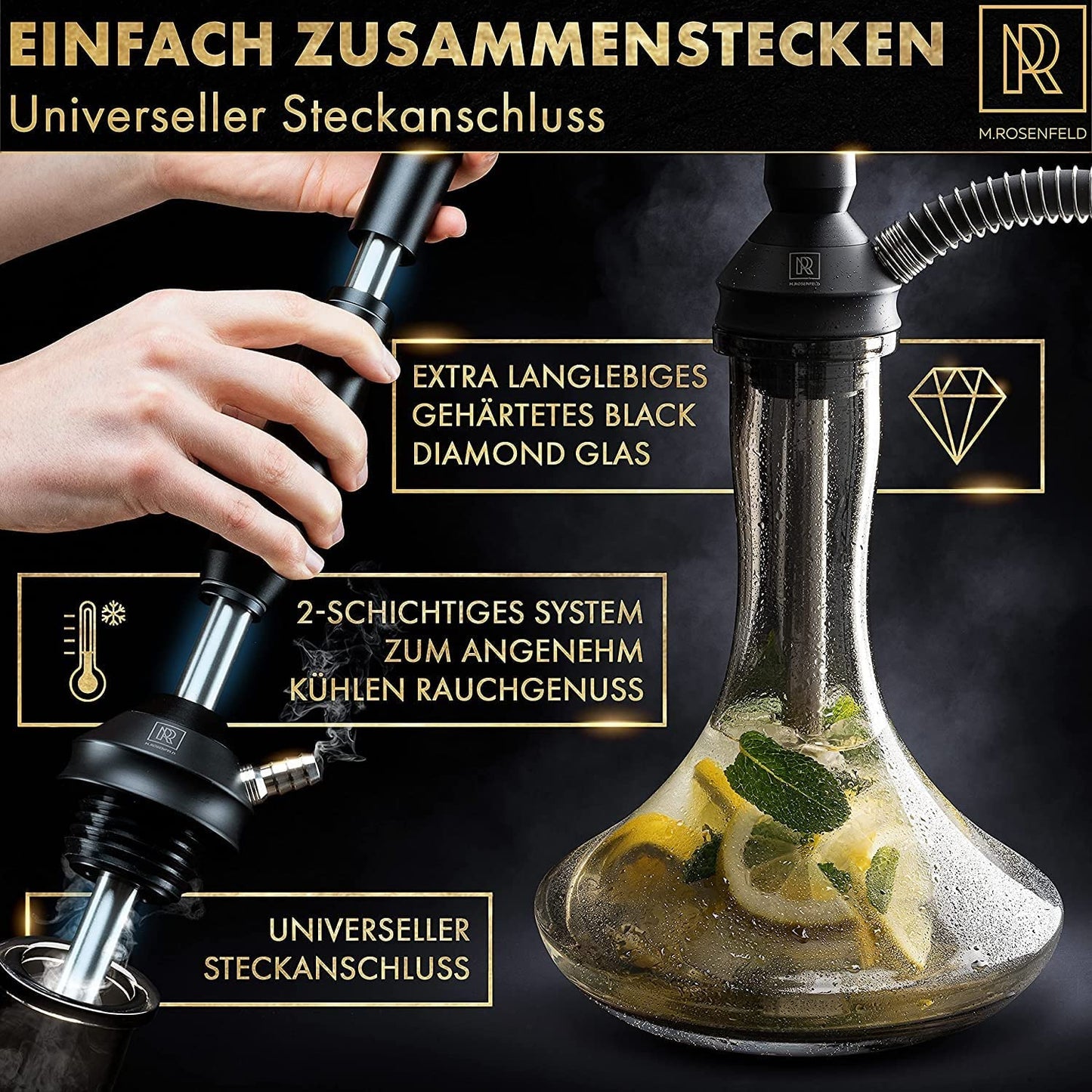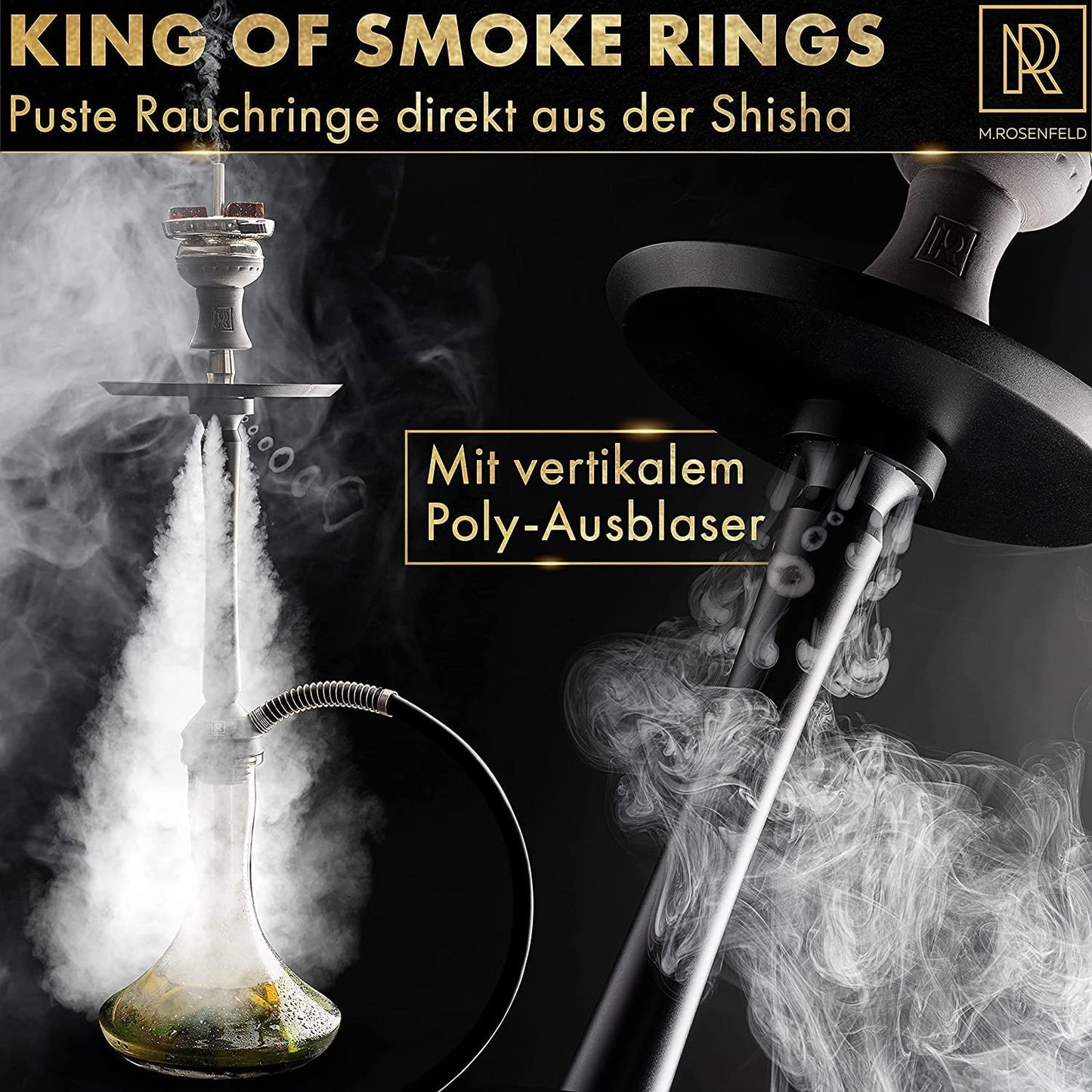 Gute Shisha
Die Lieferung war sehr Rasch und die Shisha ist hochwertig. Nur für diese Preisklasse ist sie ein bisschen zu laut. Darum ein Punktabzug
Super
Die Qualität ist ausgezeichnet, das Produkt ist einfach zu benutzen und zu reinigen. Ich kann es nur empfehlen. Das Preis-/Leistungsverhältnis ist hervorragend...
Calidad increible
Die Medien konnten nicht geladen werden.  Funciona perfectamente un sabor increible compra 100% recomendable
Toppppo sehr gut Qualität sehr schön aus ich empfehle weiter bin voll zufrieden mit 😍😍😍😍😍🌟
Einfach ist alles top finde ich auch sehr schön aus richtig geil 🤩
Ottimo
Prodotto ben fatto in ogni componente. Ottima qualità
Secure payment

Shipping faster

30 days right of withdrawal

24 hour support
If you decide to make a selection, the page will be completely updated.
Will open in a new window.