Normal price
selling price
€94,99
€159,99
basic price
pro
Sale
Sold out
● Sofort versandfertig,
Lieferzeit ca. 2 - 3 Werktage
✔️ Schnelle Versand & Umtausch
🇩🇪 Verifziertes Unternehmen
📦 Kostenloser Versand für alle Bestellungen über 50 €
AUF AMAZON KAUFEN
Premium Shisha 2 Hoses Set - 75 cm Large Shisha Set 2 Hoses XXL Complete Set with Quality Shisha Accessories LED Light Shisha 2 Connections Aluminium + Stainless Steel Shisha Smoke Column + Engraving

 

Characteristics:

Shisha Complete set - Start immediately & save yourself the time-consuming search for suitable accessories! With the SLIM ONE shisha set you get everything you need for relaxed shisha sessions.
Perfect smoking experience - Two practical connections on the smoke base and a perfect shape of the bowl always ensure unique enjoyment and pleasant smoking for you and your friends!
Premium accessories - In addition to the complete hookah, you get a practical hose stand and a multicolored LED light with remote control in this set for unforgettable shisha nights!
Effortless assembly & cleaning - Perfectly coordinated individual parts and the high-quality cleaning brush allow for easy assembly and particularly easy cleaning of the hookah at any time!
M.ROSENFELD promise - We always deliver uncompromising quality and with the SLIM ONE Shisha Set we ensure first-class tobacco taste at all times - 100% satisfaction or your money back!
Show full details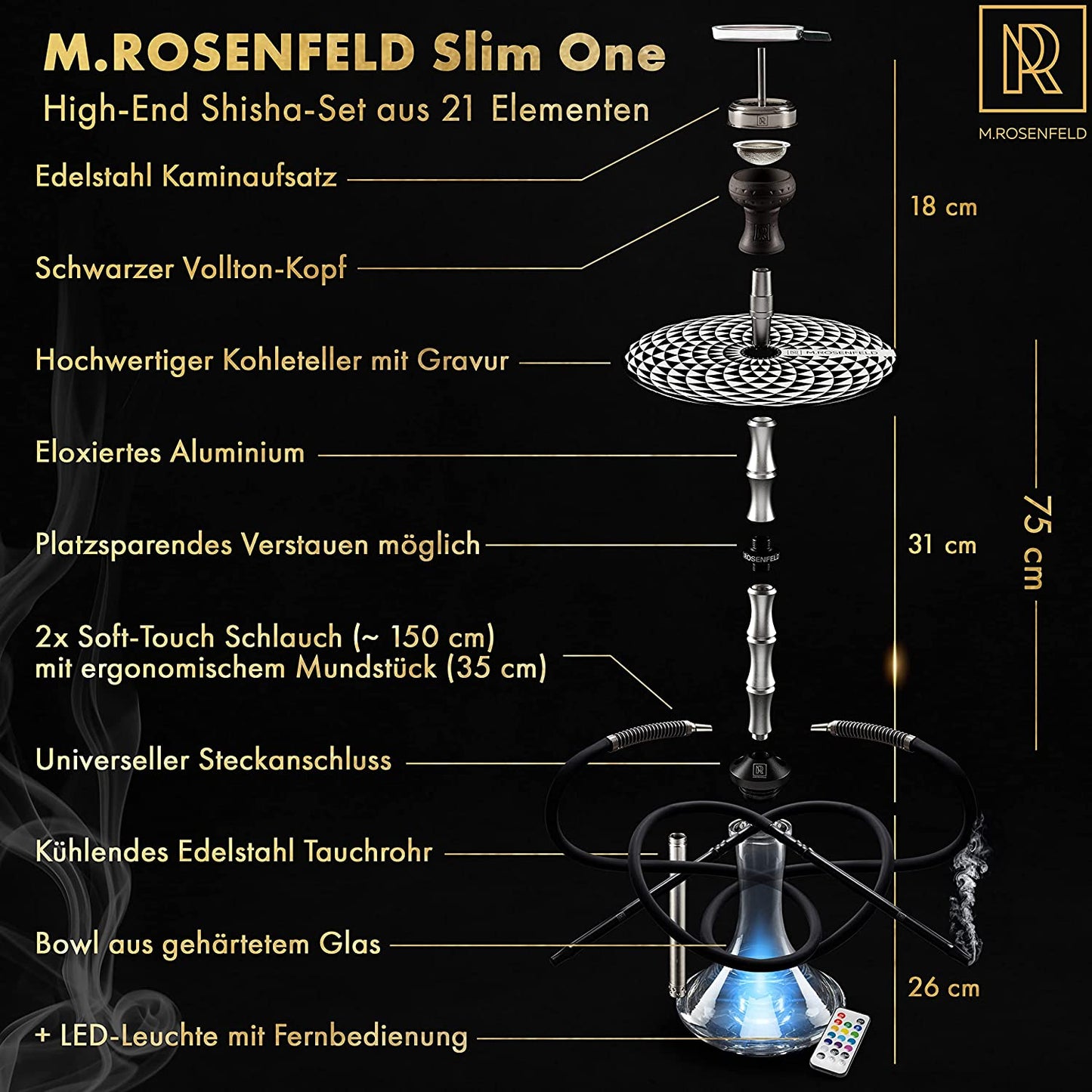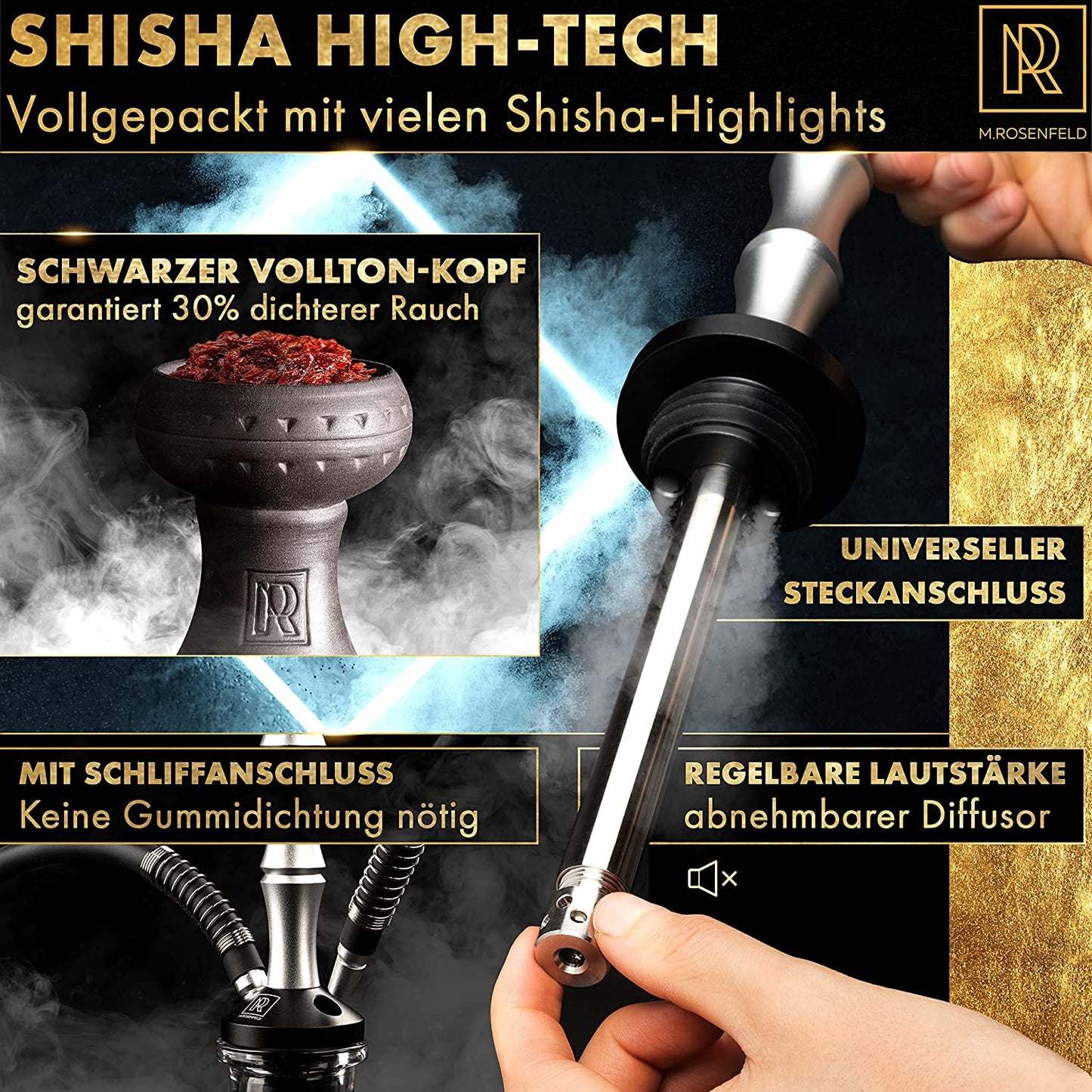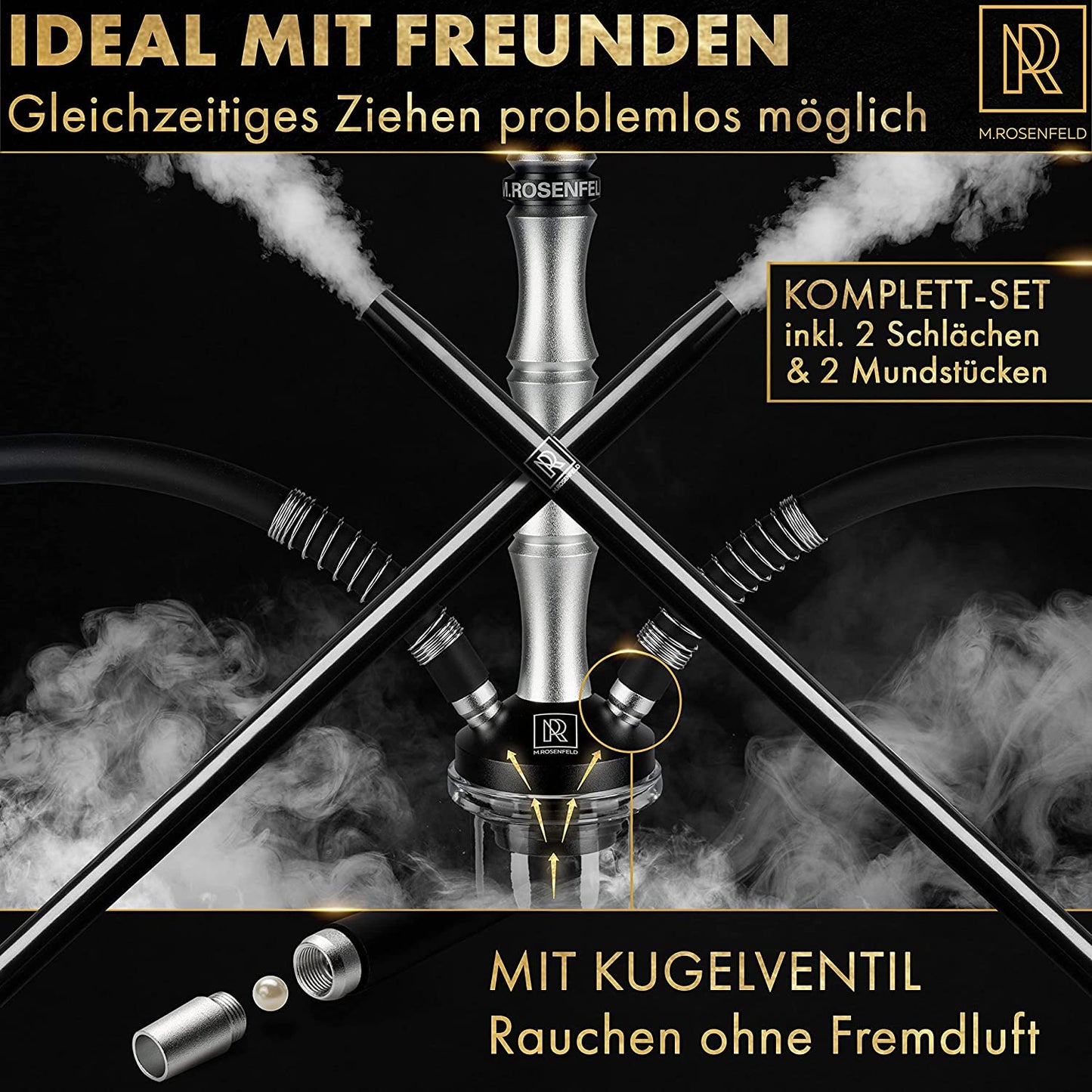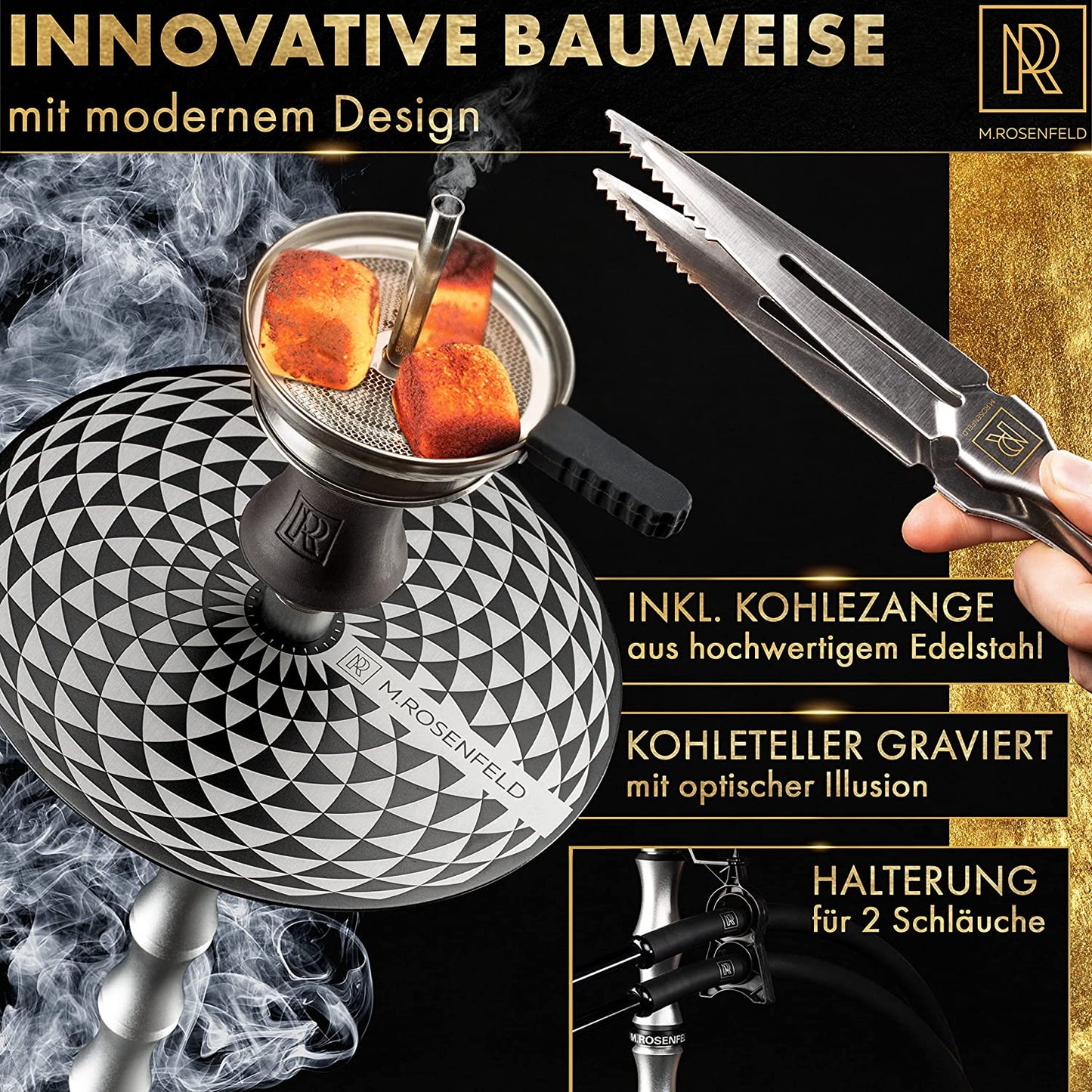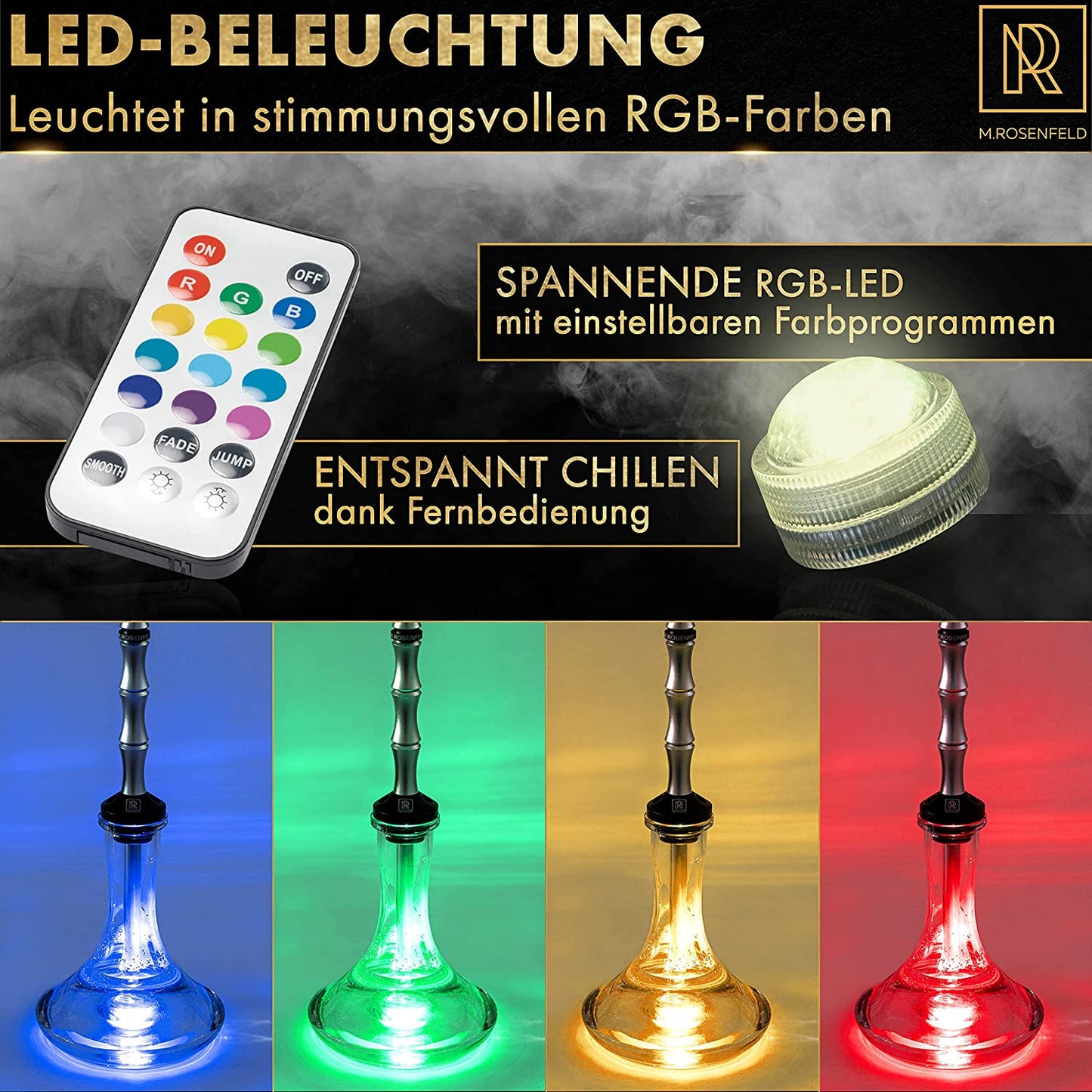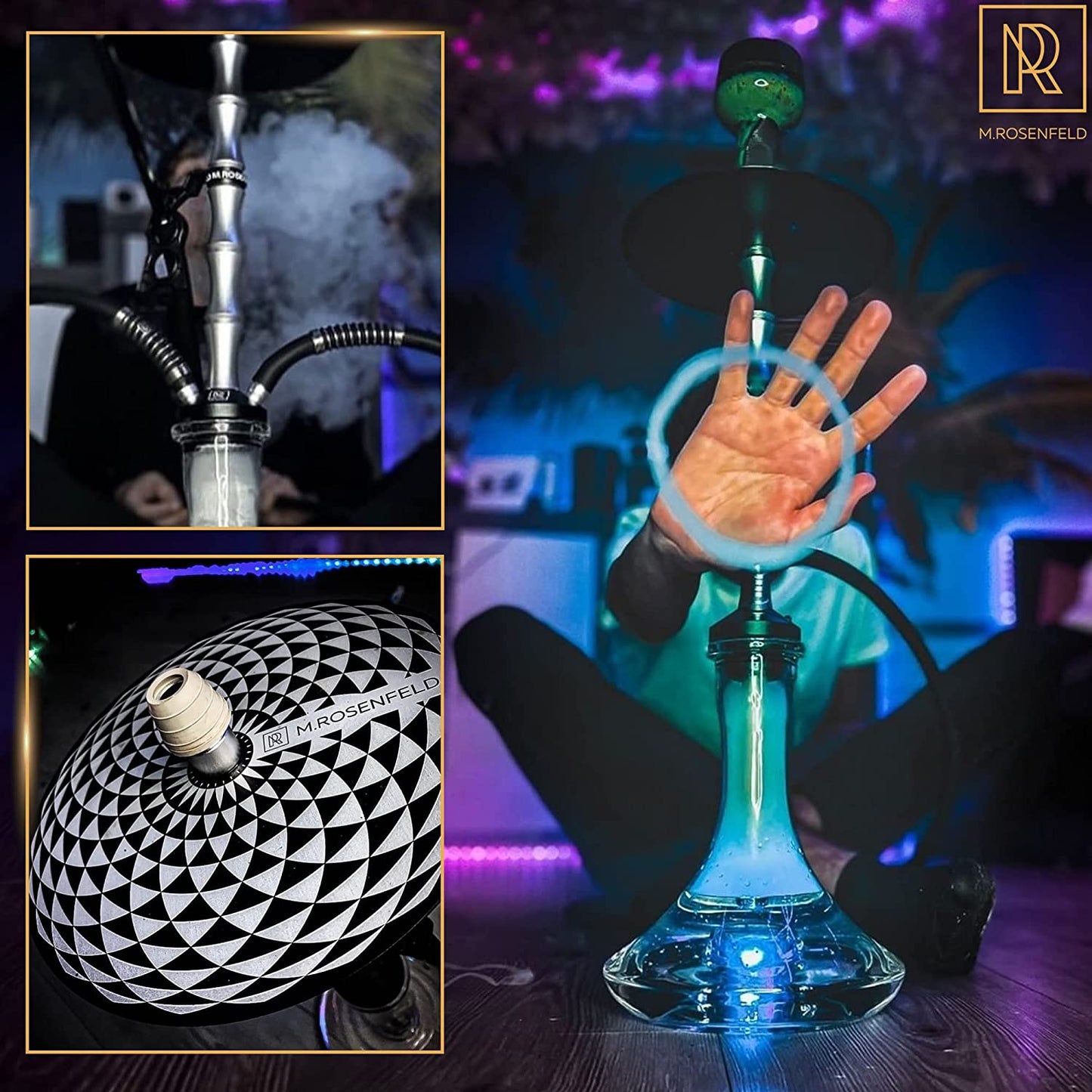 Premium Shisha Set 2Hoses
Komplettset mit tollen LED-Effekt!
Ich habe dieses Shisha-Set als Geschenk bestellt und es kam super an!Das Shisha-Set von M. Rosenfeld kommt als Komplettset, mit Shisha sowie 2 Schläuchen inkl. Mundstücken, Aufsätzen, Untersetzer, Zange und Fernbedienung.Das besondere ist wohl die LED Fernbedienung!Die Lichteffekte lassen sich jederzeit anpassen und sorgen so für eine tolle Atmosphäre - toll!Wunderbares Komplettset, toll für Anfänger und zum verschenken.
Alles super
Wir rauchen nur gelegentlich, wenn zu uns die Freunde kommen. Es sieht echt super mit LED-Lichtern und hochwertig aus und ist ganz leicht zu bedienen. Für Anfänger top geeignet! Die Pfeife ist cool, der Durchzug ist gut. Preis ist in Ordnung, aber man kann auch preisgünstiger ein Set finden.
Für den Preis ein tolles Allroundpaket
Die M. Rosenfeld Shisha ist eine komplette Shisha mit zwei Schläuchen und Beleuchtung. Es handelt sich um ein Komplettset mit Kopf, Sieb, Schlauchhalterung etc. Die Verarbeitung ist gut für den Preis, hier kann man nicht die beste Qualität erwarten. Sie ist aber sehr gut nutzbar und sieht auch sehr gut und modern aus. Besonders die Beleuchtung ist cool und gibt einen tollen, neuen Twist. Gut finde ich auch, dass gleich zwei Schläuche dabei sind und auch verbunden werden können. Perfekt für Parties und einen entspannten Abend unter Freunden. Und ich glaube genau dafür ist die Shisha auch gedacht. Es ist eine Shisha für besondere Abende ab und an, und keine Shisha für eine Dauernutzung in einem Cafe oder auch für Menschen, die zuhause jeden Tag eine Shisha rauchen. Die Shisha macht mit ihrer Beleuchtung eine tolle Stimmung. Sie lässt sich gut rauchen, und der Tabak schmeckt daraus echt lecker. Ich hatte bei meinen Versuchen tropical genutzt. Jedoch sind auch Nikotinfreie Steine gut rauchbar in dieser Pfeife. Die Rauchentwicklung ist ebenfalls gut und riecht sehr lecker. Selbst eine Reinigungsbürste ist dabei, so ist die Reinigung relativ einfach und schnell.
Umfangreiches Zubehör...
Geliefert wird eine M. ROSENFELD Shisha.Im Set sind außerdem 2x Schläuche enthalten. Das Zubehör ist sehr umfangreich. Auch für die Reinigung wurde daran gedacht, denn es gibt ein Reinigungsset mit dabei. Die Shisha ist 85cm hoch und sieht sehr edel und hochwertig aus. Die Verarbeitung und die Qualität sind hervorragend. Sie ist aus Edelstahl und Glas. Das LED-Licht gibt der Wasserpfeife das gewisse Etwas und lässt es im Dunkeln schön aufleuchten. Die Rauchentwicklung gefällt mir sehr gut. Sowohl für Anfänger als auch für Fortgeschrittene sehr empfehlenswert.Das Preis-Leistungsverhältnis ist sehr gut.Daher gibt es von mir 5 Sterne.⭐⭐⭐⭐⭐
Secure payment

Shipping faster

30 days right of withdrawal

24 hour support
If you decide to make a selection, the page will be completely updated.
Will open in a new window.