Normal price
selling price
€19,99
€26,99
basic price
pro
Sale
Sold out
● Sofort versandfertig,
Lieferzeit ca. 2 - 3 Werktage
✔️ Schnelle Versand & Umtausch
🇩🇪 Verifziertes Unternehmen
📦 Kostenloser Versand für alle Bestellungen über 50 €
AUF AMAZON KAUFEN
BYE ALUMINUM FOIL / CHIMNEY ATTACHMENT:
Up to 3 26mm coal cubes fit in. Easy heat management by simply turning or removing the lid. No smoking and no ash in the tobacco.

 

Characteristics:

✅ 𝗘𝗡𝗢𝗥𝗠𝗘 𝗥𝗔𝗨𝗖𝗛𝗘𝗡𝗧𝗪𝗜𝗖𝗞𝗟𝗨𝗡𝗚: With 3 rows of holes instead of 1, the tobacco is heated completely outside & inside. Get the maximum out of your tobacco head! Up to 3 x 26mm coal cubes fit in the smoke box
✅ 𝗨𝗡𝗜𝗩𝗘𝗥𝗦𝗘𝗟𝗟: fits 99% of all hookah heads. Tape head, glass head, silicone head KS Appo, Saphire Hot Shot RT, Solaris, Phunnel etc. Ideal for small and large tobacco heads thanks to the innovative double-ring base.
✅ 𝗠𝗘𝗛𝗥 𝗚𝗘𝗦𝗖𝗛𝗠𝗔𝗖𝗞: Optimal development of the aromas from tobacco, stones, paste etc. thanks to the special design of the attachment and the pure aluminum without chemical additives. No more burnt tobacco.
✅ 𝗞𝗜𝗡𝗗𝗘𝗥𝗟𝗘𝗜𝗖𝗛𝗧𝗘 𝗛𝗔𝗡𝗗𝗛𝗔𝗕𝗨𝗡𝗚: Easy heat management by simply turning or removing the lid. No smoking and no ash in the tobacco. Goodbye tinfoil and mantelpiece.
✅ 𝗣𝗥𝗘𝗠𝗜𝗨𝗠 𝗤𝗨𝗔𝗟𝗜𝗧Ä𝗧: Designed in Hamburg, CNC milled from a single aluminum block, clean workmanship, beautiful design, durable materials and attention to detail. Best accessories for hookah.

 

HIGH QUALITY AND DURABLE:
Milled with CNC machines from solid aluminum block. Noble hookah accessory. Mouth-blown single-hole bowl and precision-crafted. Quality for a long time

PURE TASTE: The best material for shisha bowls is glass, because despite the heat, there is no taste of tobacco like clay or silicone. Enjoy your tobacco 100% without any aftertaste of the head

DEAD EASY: 1-2 glowing coals in the attachment, close the lid, wait 5 minutes & Shisha is ready to go! All-in-one attachment -> no ash in the tobacco, no smoking necessary, heat regulation with the lid.

UNIVERSAL: HOOKARTIS Smoke Box is the first attachment developed in DE that can be used with 99% of all hookah heads. Thanks to the innovative double-ring base, it is ideal for both small and large tobacco bowls.


Show full details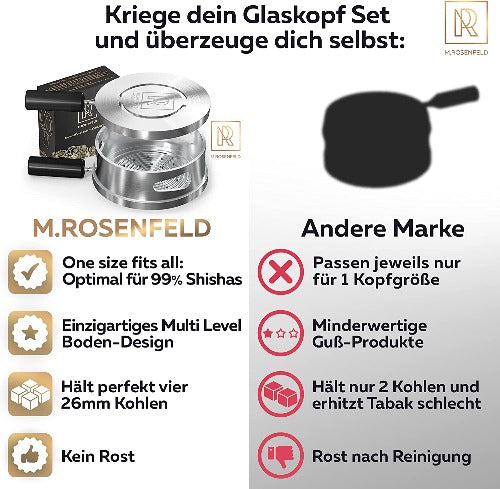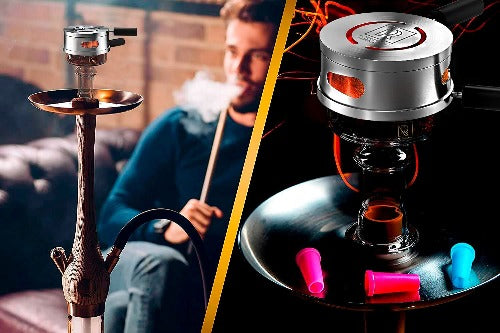 Es funktioniert tatsächlich…
Ich habe das Teil aufgrund der anderen Bewertungen bestellt. Ich bin sehr zufrieden. Kein Anrauchen mehr!
Weniger Kohleverbrauch! Und kein Problem mehr mit der Asche.
Wurde sehr schnell geliefert.
Ich spreche hiermit eine klare Kaufempfehlung aus!
Les ustensiles achetés fonctionnent tres bien
J'utilise ce produit pour fumer une chicha de tres bonne qualité , excellent choix produit tres fiables 👍
Qualità professionale! FANTASTICO
La qualita di RosenfeldNon sbaglia mai!Super professionali e sempre aggiornati.Vedo troppe recensioni negativeConsiglio seriamente a chi non sa utilizzare questi accessori di non comprarli.Prima di commentare fate un corso professionale sul narghile!Le manopole non si scaldano e sono fantastiche.Il mantenimento del calore rende la fumata piu' saporita riscaldando il tabacco in quattro posizioni differenti.Il materiale utilizzato non si rovina facilmente e puo' durare 5 anni anche oltre se usato con cura.Che dire pienamente soddisfatto.
Secure payment

Shipping faster

30 days right of withdrawal

24 hour support
If you decide to make a selection, the page will be completely updated.
Will open in a new window.