Normal price
selling price
€12,99
€23,90
basic price
pro
Sale
Sold out
● Sofort versandfertig,
Lieferzeit ca. 2 - 3 Werktage
✔️ Schnelle Versand & Umtausch
🇩🇪 Verifziertes Unternehmen
📦 Kostenloser Versand für alle Bestellungen über 50 €
AUF AMAZON KAUFEN
Hookah head fits any hookah, hardened high-quality borosilicate glass phunnel head, hookah glass head with 100% pure taste and long smoking time

 

Characteristics:

𝗣𝗘𝗥𝗙𝗘𝗞𝗧𝗘𝗥 𝗦𝗜𝗧𝗭: thanks to the supplied rubber adapter, this UNIVERSAL tobacco bowl fits on any standard shisha. Fits all standard smoke boxes from Kaloud Lotus, Amy, Kaya, MIG etc.
𝗣𝗨𝗥𝗘𝗥 𝗚𝗘𝗦𝗖𝗛𝗠𝗔𝗖𝗞: the best material for shisha heads is glass, because despite the heat, the tobacco does not taste like clay or silicone. Enjoy your tobacco 100% without any aftertaste of the head
𝗟Ä𝗡𝗚𝗘𝗥 𝗥𝗔𝗨𝗖𝗛𝗘𝗡: thanks to the single-hole shape, the molasses and tobacco stay in the bowl, tobacco stays moist longer, smokes longer, the bowl doesn't get clogged and you have a constant, optimal draft!
𝗞𝗜𝗡𝗗𝗘𝗥𝗟𝗘𝗜𝗖𝗛𝗧: 1-2 glowing coals in the attachment, close the lid, wait 5 minutes & shisha is ready to go! No ash in the tobacco, no smoking required.
𝗕𝗟𝗜𝗖𝗞𝗙Ä𝗡𝗚𝗘𝗥: the transparent head gives your water pipe that special something and enhances it visually. You always have the condition of the tobacco in view.

Details: Build the right head with the M. ROSENFELD glass head: 1. Insert the rubber adapter into the head as far as it will go, so that the adapter is completely in the head. 2. Fill the bowl with tobacco around the hole. The height of the tobacco should not exceed the height of the hole. 3. Place the head on the shisha and press down until the head is firmly in place and does not wobble. 4. Now the charcoal attachment with the glowing charcoal can be placed on the head. There should be at least 2 mm space between the attachment base and the tobacco. 5. Close the lid and wait 5 minutes. No smoking necessary! 6. Now you can smoke and with the first puff real clouds come out! Have fun! Does the glass head jump after a short time? Do you have problems getting through? Does the glass bowl break because of the heat or do some parts get blistered almost immediately and don't look as nice? Would you like to have a really good product and not be disappointed? Then you are exactly right here!

 
Show full details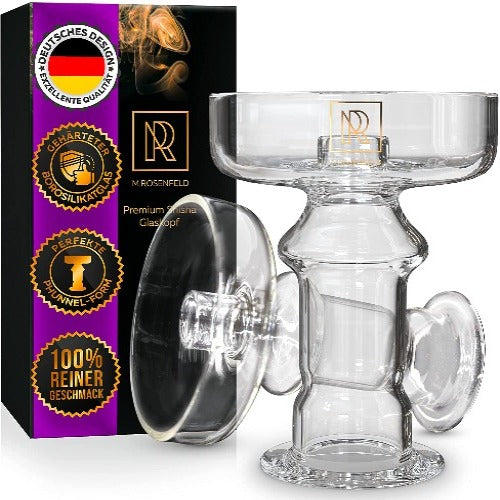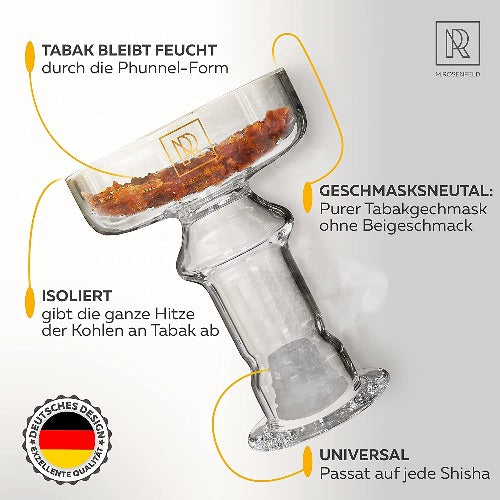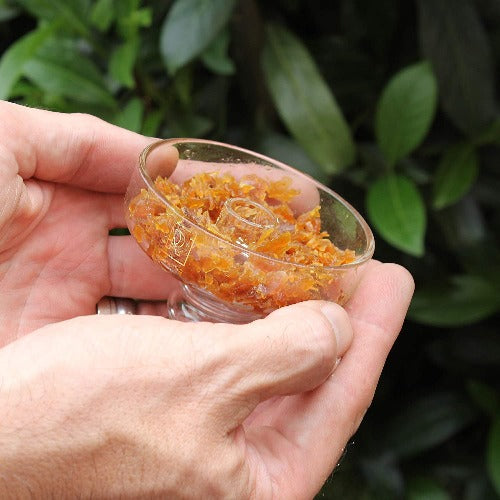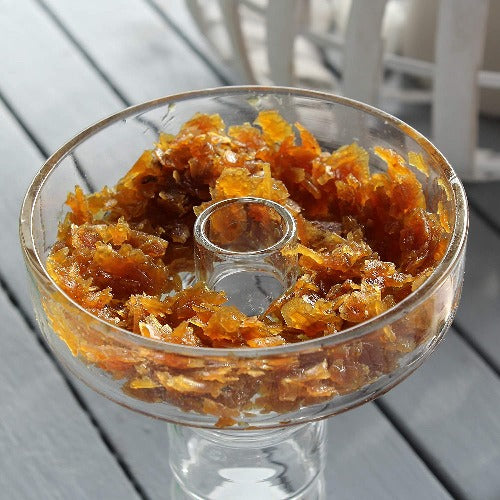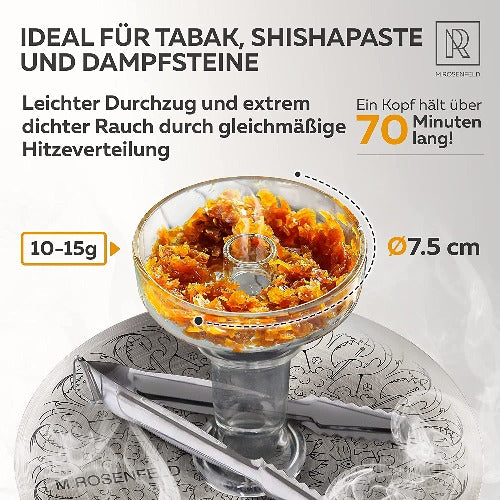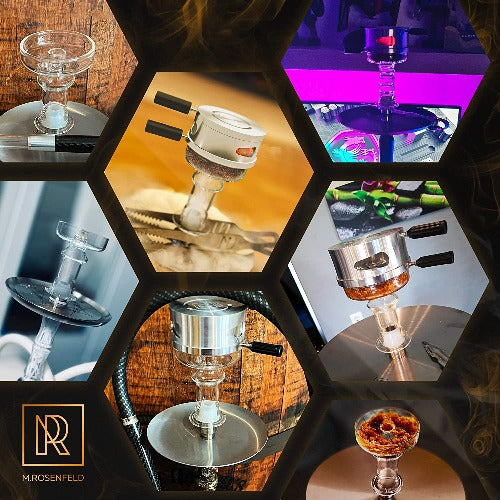 Schnelle Lieferung. Tolles Teil
Bin zufrieden mit dem Glaskopf. Wurde super schnell geliefert. Sieht super aus. Und ist gut zu reinigen
Guter Kopf
Schön verarbeitet und bringt sehr guten Geschmack.
Secure payment

Shipping faster

30 days right of withdrawal

24 hour support
If you decide to make a selection, the page will be completely updated.
Will open in a new window.